Genel Katalog =>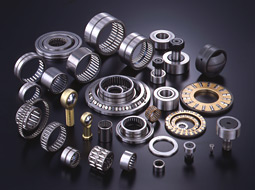 Needle roller bearings are rotational motion bearings in which a thin needle-shaped roller is incorporated into a rolling element. They have a low cross-section height and high load capacity compared with ball bearings. Being small, needle roller bearings contribute to reducing overall machine size, and are thus widely used in various applications such as automobiles, motorcycles, printing presses, industrial robots and construction equipment.
Radial Type
Shell Type Needle Roller Bearings|
Needle Roller Cages for General Usage|
Needle Roller Cages for Engine Connecting Rods|
Machined Type Needle Roller Bearings
Combined Type
Combined Type Needle Roller Bearings
Cam Followers
Standard Type Cam Followers|Double Hex Hole Cam Followers|
Solid Eccentric Stud Type Cam Followers|
Eccentric Type Cam Followers|
Thrust Disk Type Cam Followers|
Cam Followers for Centralized Piping|
Easy Mounting Type Cam Followers|
C-Lube Cam Followers|Miniature Type Cam Followers|
Miniature Cam Followers with Thrust Washer|
Heavy Duty Type Cam Follower|
C-Lube Unit for Cam Followers
Roller Followers
Roller Followers|
C-Lube Roller Followers
Spherical Bushings
Spherical Bushings|PILLOBALLs|L-Balls
.
Elektrikli Lineer Aktüatörler
Redüksiyon Entegreli Lineer Aktüatörler
Vida ve Somunlar